SUMMER BOOK CLUB BEGINS JUNE 26th 7-8:30PM
ANNEX ROOM 1 with Linda Nichols
First Book of the Club: The Appalling Strangeness of the Mercy of God by Ruth Pakaluk. Click above for full series of book dates.
ALTAR SERVERS and TORCH BEARERS NEEDED
Corpus Christi Procession
Thursday, June 20th at 7pm
If you can help at the Corpus Christi service this Thursday as an altar server or torch bearer, please contact the parish house.
CORPUS CHRISTI PROCESSION
Saint Mary Parish will host its Annual Corpus Christi Procession on Thursday, June 20 at 7:00 PM (the traditional Thursday before Corpus Christi Sunday). All parishioners, 1st Communicants (please wear your Holy Communion outfits), Perpetual Adoration Adorers, and friends of Saint Mary Parish are strongly encouraged to attend. The Corpus Christi Procession will mirror our Annual May Procession. In other words, we will begin to gather in Saint Mary Church at 6:15 PM, NOT by the Cafe`. The Rosary will be prayed beginning at 6:30 PM by several Perpetual Adoration Adorers. At 7:00 PM we will begin to process out of the church and around our beautiful campus with two stops at our outdoor Benediction locations. We will conclude with our third and final Benediction in our church. If you choose not to walk around our campus please just remain in church because we will return after our second outdoor Benediction. After our service in church, we will host a Rita's Water Ice reception outside in our Plaza for all to enjoy
HELP WANTED: FACILITIES STAFF
Saint Mary Parish is taking applications for a summer facilities worker to assist with the cleaning of the school classrooms, school building, watering flowers, and other miscellaneous jobs. Applicants should be at least 18 years old. Clearances will need to be obtained through the Parish. If interested, please contact the Director of Business and Operations, Mrs. Mary Beth O'Connor, in the Parish Office Center.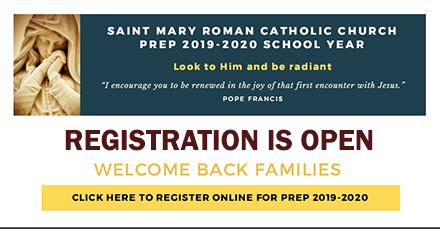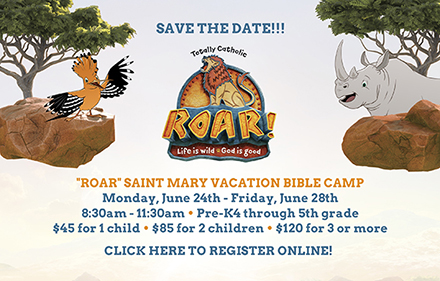 ---